11/25/2012 The Sunday Funnies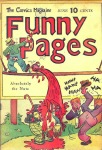 The Sunday Funnies:
We don't do cartoons much mostly because we don't know how. But we love to browse through YouTube looking for funny videos that relate to our special pages such as fishing, boat building, navigation , etc.. Its Sunday, time to relax and follow that ancient Sunday tradition kick back and watch our maritime "funnies". Click on the links below and then hit the back arrow on the YouTube tool bar to come back here for the next selection. .

Unfortunately our research proved fruitless for new funny videos related to our special interest page titles this week. It must have been a slow week for humor, but then again here at AAB we are big consumers of funny maritime videos. With so little new funny material available this week we thought this Sunday would be a good time to introduce our expanded classics selection.
CLASSIC FUNNIES: The next few videos received such appreciation and so many people have forwarded these that ,we have decided to retain them long term.
THE SMU WOMEN'S ROWING TEAM FUNNY IN THE TEAM VAN:
http://www.youtube.com/watch?feature=endscreen&v=K7ppxF4O130&NR=1
-held over by popular demand
"
When Its OK To Pee in Your Pants" A Seaplane and Boat Encounter
A Sunday "Funnies Classic " held over by popular demand
http://www.youtube.com/watch?v=U1Ki2R7zO8o
RECENT AADDITIONS: Vote for your all time favorite by sending in a comment.

Prior Fishing Right
s:
http://www.youtube.com/watch?v=alPmPSls-9s
Jet Ski as prop in funny Old Spice Commercial
:
http://www.youtube.com/user/oldspice?v=lI7FKpmWL
Going to Extremes To Bring You Salmon:
http://www.youtube.com/watch?v=2anomrgUnvk&feature=related
THE BOATING SCENE FROM CADDY SHACK
:
http://www.youtube.com/watch?v=cGD-tUsySPs
Koh Tao Nian Rhapsody, Diver Music video
We're not sure how "Funny " this is but you would definitely want to hire old Fido here as a watch dog. Watch "Dog Attacks Shark"