NEW: STAND UP PADDLE BOARDERS TAKE NOTE:
Revised June 6, 2015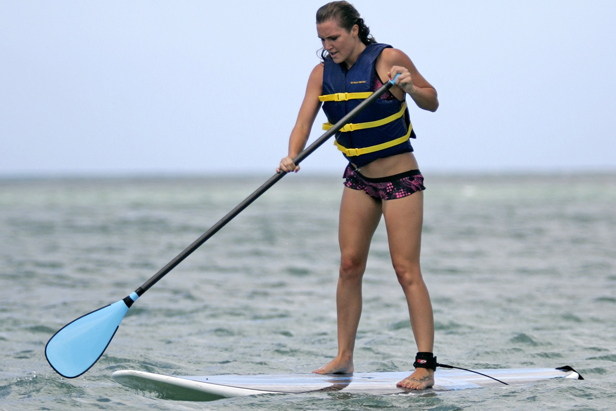 What's Wrong With This Image? What's Right with this Image
The Image on your left is how most paddle boarders did sport until 2013 , with little more than swim wear and paddle. The image on your right is from a stand up paddle board rental company. They equip you in compliance with the actual regulations so as avoid liability and also to keep you from having your recreation cut short by the long arm of the law.
It was determined a couple of season ago that all lengths of paddle boards meet both federal and state criteria as "regulated vessels" in the same manner as canoes or kayaks.
In a nut shell this means that when paddle boarding you need a personal flotation device(PFD), a whistle, and at night a "flare up light". These need not be bulky items.
The PFD must be Coast Guard approved but may be of the sport, suspender or even fanny pack inflatable device types. The whistle can be small and worn on a lanyard around the neck, and the light is only required at night and can be any type of flash light than can be displayed "in time to give warning of collision". in short every thing could easily fit in a fanny pack or in the pockets of a set of surfer "baggies".But you must have these items on you if stopped by the Coast Guard or state marine police units.
At a minimum, you'll be sent back to the beach or launch site if you don't have them on you.
Below are some samples of the typical equipment. The icons are links to the items at Amazon, once there, there are many more items of the same sort available on amazon. There is no obligation to buy if you want to click in for the purpose of window shopping. If you haven't bought a board yet, talk with your dealer about a safety package. Given the nature of the sport it looks to us like among the most important items are simply swim wear or wet suits with roomy pockets.
Amazon's SwimWear Offerings
Above is a link to probable examples of cargo pocket swim wear that could handle the equipment requirements of paddle boarding., While in the Amazon site we suggest that you look also at "diving equipment" and "diving wear". You may find apparel items there that will facilitate both your comfort and compliance with the new safety regulations. You can also find the regulatory requirements needs on Amazon such as a whistle, and waterproof flashlight. You will need a personal flotation device (PFD) .Check out our product information on PFDs in the Fishing Shop in our
SHOPPING MALL
Our research indicates that a quality safety package can be obtained including swim wear for under $150, possibly double that if you want an all season wet suit. The videos we link to in our
paddle sport page
mostly depict paddle boarders without any sort of PFD, as was the custom early in the sport. But as long as you use the paddle board you are operating what is legally considered a "vessel" subject to the same rules as a canoe. Adding a $150 safety package to the typical $1,000+ cost of a paddle board can not only save your life but is cheap recreational trip insurance assuring that you won't get jerked out of the water mid holiday by the long arm of the law.
AMAZON also has a complete Paddle Gear clothing shop that includes cloth outer wear and neoprene gear specially designed for board water sports.
As always we recommend to all water sports

enthusiasts

periodic visits to the Guru of Water Safety Mario Vittone. Have fun out there let Mario show you how to come back alive.
Mario Vittone's "BE SAFE" blog at: