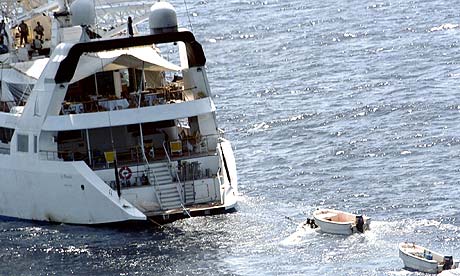 Photograph: French defence ministry
On January 2, 2015 John Franklin , Commodore of the

Ocean Cruising Club
/
issued a warning for yachtsmen sailing in the waters between Trinidad, Tobago, and Grenada. In the ten days prior to the warning there were two reports of piracy against yachts in the vicinity of just north of Trinidad. The pirates are suspected to be of
Venezuelan
origin and the pirates attacked from 18-20 foot skiffs termed "pirogues" locally with powerful outboard engines. Each "pirogue" was crewed by 5 or 6 pirates with automatic or semi automatic rifles. Each "pirogue" carried a spare outboard and fuel in drums. In both of the reported cases the yachts were boarded by the armed pirates and ransacked for valuables. Items taken included cash, pass ports, yacht registrations, cell phones, watches, computers, other electronics and clothing. There were no injuries of loss of life. Both reported incidents took place in daylight.
For some of us at AAB our Coast Guard careers began with piracy suppression patrols in the Western Caribbean in the 1960s before the pirates of Somalia made the general public aware that Piracy is still a maritime scourge. At that time the targets were American commercial fishermen , mostly shrimpers out of Texas and Louisiana. We have not seen attacks against large commercial ships in the Eastern islands or the Western reaches like the Yucatan Peninsular. It is the large ship incidents that garner the media attention which is the case with the waters off of the Horn of Africa. Yacht navigators should include piracy planning/avoidance routing in their voyage planning just as commercial ships do today. Sometimes, however, reliable and informative yacht specific information can be hard to come by. Enter the
Ocean Cruising Club
. check out their web site and if you are planning a cruise outside U.S. or UK domestic waters we highly recommend membership.
AAB'S